Events & Photos
Upcoming public events at the monastery will be posted here as well as photos from various monastery events.
Subscribe to posts
Click
here
 for the photo album.
Pandemic Ponderings Pascha—One Year Later
by Mother Christophora 
During the pandemic, I have often heard people refer to this as "a crazy time." Or they say that we are living in "a crazy world" now.  Others refer to the pandemic in general as "all this craziness."
I have never felt comfortable with that word or description. I wanted to say that this is not a crazy time. The world God created is lovely and beautiful—not crazy. Maybe we are crazy. Maybe our society was already crazy before the pandemic. But I don't think that any perceived craziness will simply go away when the pandemic becomes history.
I did a search of the Bible for the word "crazy," and it does not appear, not even once. Then I thought: Perhaps the word "mad" is used in Scripture. So I searched that word and found it only seven times in the whole Bible.
Almost always, the word "mad" referred to a person, not to the world or society. One interesting exception can be found during the destruction of Babylon in Jeremiah 51:6–7, which reads:
"Flee from the midst of Babylon;
let every one save his life!
Be not cut off in her punishment,
for this is the time of the LORD's vengeance,
the repayment he is rendering her.
Babylon was a golden cup in the LORD's hand,
making all the earth drunken;
the nations drank of her wine;
therefore the nations went mad."
If people see our time, this pandemic time, as a crazy time, what do they actually mean?
Is it because we can't just go here and there,
Anytime,
Any place,
Anywhere?
Is it because we feel that
"They" have taken away "Our human rights"
(If we even ever had them),
Because we can't gather in groups,
Or because we are required to wear masks?
Is it because plans have been curtailed,
Dreams shattered,
And events canceled?
Is it a crazy time because our financial resources
Have weakened,
Or dried up,
And "secure" jobs have been lost?
Is it because people died
Without saying goodbye,
Without loved ones being near,
Without proper funerals and burials?
Is it because even strong and healthy ones
Got sick,
Weakened by this unseen enemy?
Is it because we can't visit family and friends,
Hug our grandkids,
Gather for graduations, celebrations, and marriages?
Is it crazy because schools were closed,
Bands practiced on split-screen,
Clubs met online,
And doctors diagnosed over video chat?
Is it crazy because churches were shuttered,
Services were canceled or streamed,
Communion became virtual, rather than physical,
And monasteries locked their gates?
Indeed, we have much to grieve,
Much to regret,
Much to heal.
And much to fulfill, and refill.
Yet, we discovered the Lord was not in the wind.
He was not in the earthquake.
He was not in the fire.
But He came, a still small voice.
He came to each one of us,
In our own quiet solitude,
In our social isolation,
In the inner chamber of our hearts,
In our rooms, once we had shut the door.
Last year it was there,
Where we were forced to flee,
Where we met Christ,
When we followed Him in our own painful isolation,
And the abandonment of Holy Friday;
Where we came to search for Him
In the oh, so very empty tomb,
Of our own hearts that Pascha night of the Pandemic.
But never were we separated from Christ;
No matter how lonely we were,
No matter how empty the tomb of our hearts,
And the nave of our churches.
Yes, in the long, endless, isolated hours of Holy Week,
And behind those locked doors of Pascha night,
It was Christ Who came to us!
It was Christ with Whom we broke bread that night.
And it was Christ Who said, "Peace be with you.
As the Father has sent me, even so I send you!"
And eight days later,
When Thomas demanded the physical proofs—
To touch with his hands, to see with his eyes—
Jesus asked, "Have you believed
Because you have seen me?
Blessed are those who have not seen and yet believe!"
As others walked and discussed
All that had happened in those days,
He, Jesus, walked with them.
He listened to their grief.
He felt their trauma.
It was He Who broke the bread and opened their eyes,
So that their hearts burned!
A crazy world?
No. Not with the Lord.
He asks us, "Have you anything to eat?"
Yes, we have seen, and we have tasted,
How good the Lord is!
We are not alone.
We have not been alone!
He has opened our eyes to see His face.
He is among us, in us, and with us.
Yes, indeed, Christ is among us!
He is and ever shall be!
And let us follow Him again this year,
On whatever road He leads,
And whatever path He demands.
As in each year that has already passed,
Let us follow Him,
To His Passion, and to
His Holy Third-day Resurrection!
"And unto us He has given eternal life.
Let us worship His Resurrection on the third day!"
Christ is among us!
He is and ever shall be!
(3X)



Archpriest Peter Pawlack
April 19, 2021Archpriest Peter Pawlack
Warren, OH [OCA]
Archpriest Peter Pawlack fell asleep in the Lord on April 19, 2021.
Father Peter was born in Mayfield, PA the son of the late Julia (Hadginske) and Peter J. Pawlack. A younger sister and only sibling recently fell asleep in the Lord.
He graduated from (Eastside) New Jersey High School. He attended Rollins College in Winter Park, FL and subsequently transferred to Rider College (now Rider University) in Lawrenceville, NJ to continue his undergraduate studies. He received his undergraduate degree in Commerce and Industrial Management from Rider College. In the fall of 1962 he entered Saint Vladimir's Orthodox Theological Seminary, Crestwood, NY.
In June of 1964 he and the former Barbara Rugala were married by the late Archpriest Dimitri Ressetar, Archpriest John Meyendorff and Archpriest Paul Shafran at Saint John's Orthodox Church, Mayfield, PA.
On October 10, 1964 Father Peter was ordained to the Holy Diaconate at Saint Vladimir's Seminary Chapel by the late Archbishop John of San Francisco. Four months later on February 15th he was ordained to the Holy Priesthood at Protection of the Holy Virgin Mary in New York City by the late Archbishop Ireney of Boston. Upon completion of his Bachelor of Divinity degree from Saint Vladimir's Seminary in the spring of 1965 he was assigned to Saint Mary's Church in Waterbury, CT.
While serving as pastor of Saint Mary's Church, Father Peter advocated the use of the English language in an era when Church Slavonic was still quite prevalent. He served as Spiritual Advisor to the Atlantic District Eastern Orthodox Christian Education Association and the Atlantic District FROC, Secretary of the Diocese of New England and University Chaplain for the New England Diocese.
He returned to Saint Vladimir's Seminary in 1967-68 and completed requirements for the Master of Divinity degree which was awarded in May of 1968.
In June of 1968, Father Peter was assigned to Saint John the Baptist Church, Warren, Ohio where he served as pastor for 38 years.
During his pastorate at Saint John's Church, Father Peter has served as: Chairman of the Department of Church School Programs for the Chicago-Minneapolis Diocese, Member of the Midwest Diocesan Council, Member of Saint Joseph Hospital's Pastoral Advisory Council, Member of the Warren Police/Clergy Crisis Intervention Team and Vice-President of the Warren Clergy Association.
He has served as Secretary of the OCA Pension Board, Chairman of the Cleveland Deanery Publications Committee and was a member of the Howland Clergy Association.
Father Peter was elevated to Archpriest in 1977 and awarded the Jeweled Cross by the Synod of Bishops in 1990.
Prior to his retirement Father Peter served as Dean of the Ohio Deanery from 2004 to 2006. He retired from Saint John the Baptist Church in August of 2006. During his retirement years he was a substitute priest as needed in parishes of the Ohio Deanery and for the last six years served Sunday Liturgy at the Orthodox Monastery of the Holy Transfiguration in Ellwood City, PA.
He is survived by his wife, Barbara of 56 years, two sons, Peter III and Gregory (Ruth Ann Bowers) and two grandchildren. His parents and only sister preceded him in death.
Final arrangements are by Peter Rossi & Son Memorial Chapel, 1884 North Road, Warren, OH. All services will be held at the Orthodox Monastery of the Transfiguration with the committal service at the Monastery Cemetery.
The nuns will receive Father Peter's earthly body at the monastery Tuesday evening at 6:00 PM. He will lie in state in the monastery chapel from Tuesday evening until his burial on Friday.
Public services and visitation times are as follows:
Wednesday, April 21
10:00 AM Pre-Sanctified Liturgy with visitations until 2:00 PM.
Thursday, April 22
6:30 PM A Panikhida will be served by the clergy, choir and faithful of Saint John's Parish, with visitations until 8:00 PM.
Friday, April 23
9:00 AM Pre-Sanctified Liturgy
12:00 PM Funeral Service and committal.
Clergy and faithful who wish to attend any of the above services, should call the monastery to make a reservation, 724-758-4002. Attendance will be limited due to Covid restrictions. Masks and distancing will be required.
All services will be live streamed on the monastery YouTube channel.
In lieu of flowers, the family requests any donations to be sent to the Orthodox Monastery of the Transfiguration, 321 Monastery Lane, Ellwood City, PA 16117.
May Father Peter's memory be eternal!
The Liturgy and burial service for His Beatitude, Metropolitan Theodosius, will be served in the OUTDOOR church at the monastery beginning at 10:00 Friday, September 23. Viewing will be from 9:30-10:00. 
Attendees will be asked to sign in, wear masks and socially distance.
A mercy meal served in the outdoor gazebo will follow the committal service, 
with hierarchs and clergy dining in the monastery refectory.
Reservations are not required but would be helpful for planning purposes.
From OCA.org
ELWOOD CITY, PA [OCA]
From Saturday, August 8-Sunday, August 9, His Beatitude Metropolitan Tikhon visited the Monastery of the Holy Transfiguration in Ellwood City, PA, in order to celebrate the feast of Saint Herman of Alaska, and ordain Subdeacon John Thetford to the holy diaconate. On Saturday evening, His Beatitude presided at the celebration of the festal vigil. At the conclusion of vigil, he presented the Very Reverend Abbess Christophora a primatial gramota honoring and thanking her and the Sisterhood for their internet ministry work. His words appear below.
---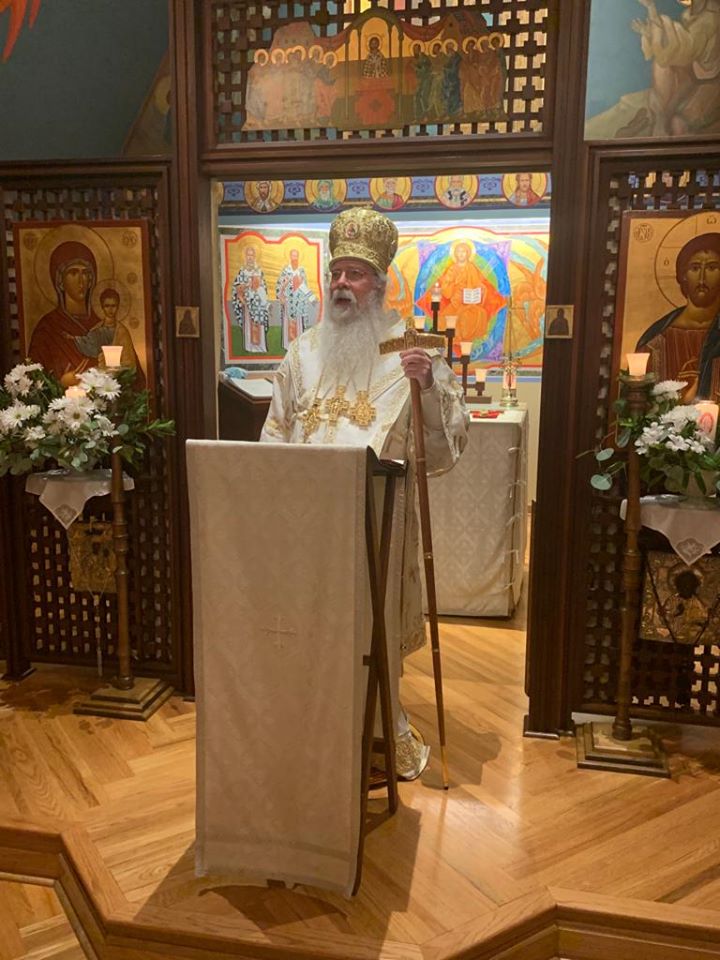 We celebrate today, with festive cheer and glorious hymns, a simple monk. We honor today, with loving veneration and songs of praise, a humble, quiet man.
This simple monk, this humble, quiet man is known, to those who have eyes to see, ears to hear, and hearts to discern, as the Venerable Herman of Alaska. How remarkable that such a person, little recognized by the world and lacking in external distinctions, is being celebrated 226 years after the
beginning of his missionary activity on this continent, 184 years after his death, and particularly today, on the 50th anniversary of his glorification as a saint by the Orthodox Church.
He was clearly an intelligent man with some degree of education, as one can tell from his letters. He was physically strong and enjoyed good health, as we hear in the stories of his labors. He had the opportunity to travel to far off cities and further his education. He could have chosen any of a variety of careers, and become successful.
But rather than settling for such opportunities, the humble Herman laid aside the love of self, put all of his trust in God, and devoted himself to the search for the one thing needful. He made a conscious choice, not dictated by necessity or passionate desire, to struggle in order to acquire the blessings of the Kingdom of Heaven, not as promises to be fulfilled in the distant future but as realities to be experienced in this very life.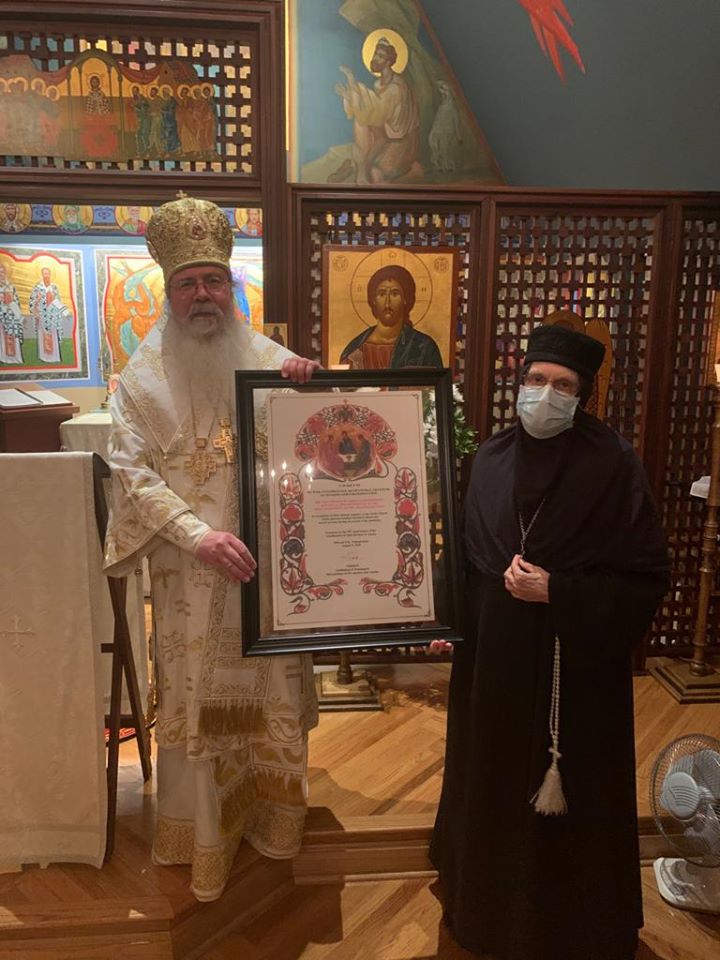 Anyone who has made this choice, such as the monastics here at the Monastery of the Transfiguration in Ellwood City, Pennsylvania, understands both the difficulty of the struggle and the joy of the experience. They understand it because the way we draw closer to a saintly person is the opposite of
the way we draw near to a worldly person.
It is, in many ways, much easier to draw near to a saint than to draw near to a prominent worldly person. To approach, to imitate, or even to speak with a famous or successful worldly person, one often has to rise to their exalted state of fame, fortune, or expertise: a small effort at any of those things often seems futile.
But to approach a saint, one does not rise, but rather goes down to try to plumb the depths of their humility. And even the smallest step or effort in this direction, that is to descend towards the profound humility of the saints, connects us to them and unites us to the One who is the source of that humility, our Lord Jesus Christ.
This is what monastics try to do. Forsaking worldly goals, they have decided to come here and live the monastic life, seeking communion with our Lord Jesus Christ, striving for his humility through obedience and receiving his love through their life in community and their ministry of hospitality.
Indeed, monastics love the people who live in the world so much that they die to "this world", in imitation of God's Only Begotten Son, Our Lord Jesus Christ, who was given up for the salvation of the world.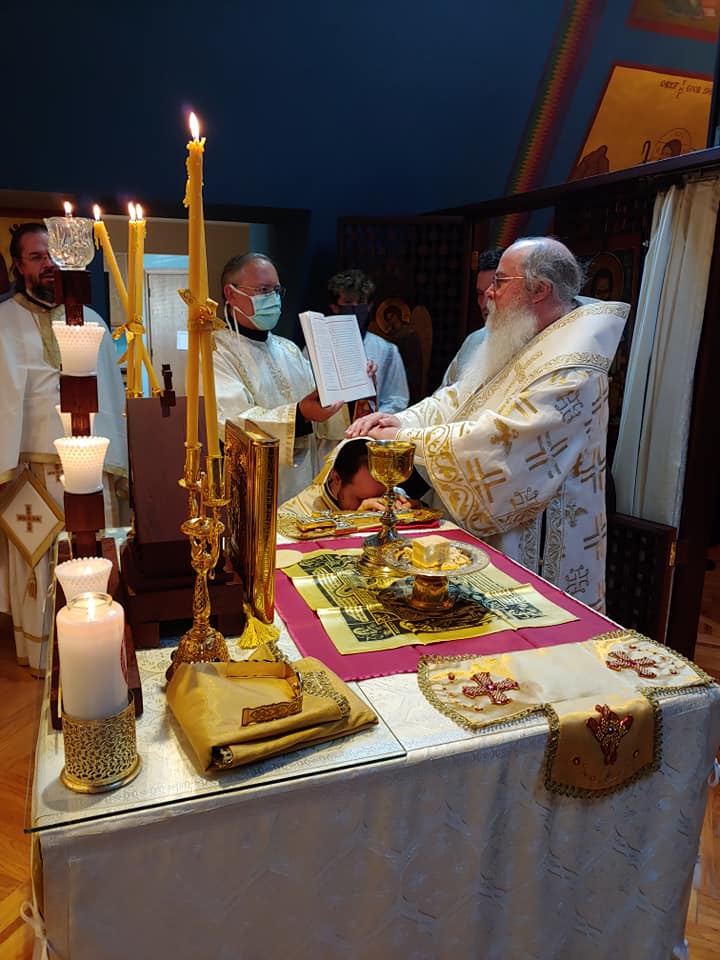 Following the example of Saint Herman, the nuns of this monastery have always reached out to the community and world surrounding them with love and understanding.
Since its inception in 1968, this monastery has used the local language, made connections with the local community, and been a model community of Orthodox unity in America.
In more recent years, this monastery became one of the first Orthodox communities to engage Orthodox Christians nationally and internally via consistent live streaming of the Divine Services.
When the Coronavirus pandemic suddenly fell upon our country in March, many of our churches had no capability to stream, and many of our faithful were unable to participate in the services.
This is why thousands of Orthodox Christians around the country flocked to this monastery's live stream, and found solace in joining their prayers alongside those of the nuns.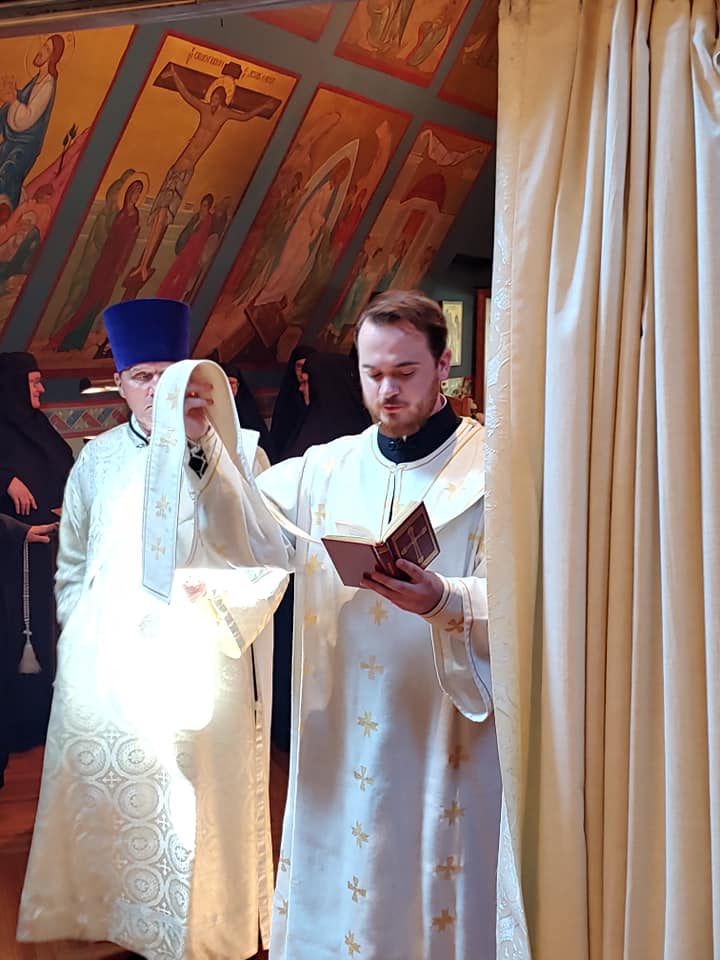 Indeed it seemed that the monastery church quickly became the largest live gathering, albeit a remote gathering, of Orthodox Christians anywhere in the country.
This unique ministry does seem to be a fitting imitation of Saint Herman of Alaska, for Saint Herman constantly connected with those far and wide through his unceasing holy prayers.
And so, it is fitting that on this feast today of St. Herman's glorification, I present to Mother Abbess Christophora and the Sisterhood of this Holy Monastery a Primatial gramota in honor of their dedicated live streaming of the services, particularly in these last few months and as an encouragement to continue to offer, not only this liturgical service but to faithfully persevere in their life of prayer which sustains all of us.
May our Lord and Savior Jesus Christ, through the prayers of our Holy Father Herman of Alaska, always protect and preserve this Holy Monastery of the Transfiguration!
---
On Sunday morning, His Beatitude presided at the celebration of the festal Divine Liturgy. During the liturgy, he ordained Subdeacon John Thetford. Concelebrating with His Beatitude were Archpriest Alexander Rentel, Chancellor of the Orthodox Church in America, and Priest John Ketchum, Proistamenos of Kimissis tis Theotokou Parish, Racine, Wisconson, and Dn. John's father-in-law, and Protodeacon John Oleynik.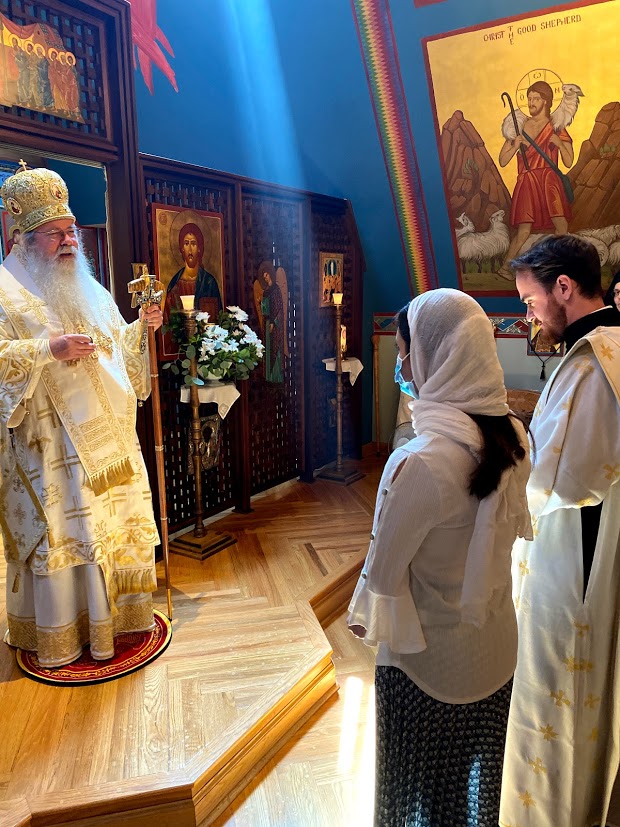 Following the Divine Liturgy, His Beatitude met with His Eminence Archbishop Melchisedek of Pittsburgh and Archpriest William Evansky, Chancellor of the Archdiocese of Western Pennsylvania, and discussed matters facing the Orthodox Church in America and the diocese. Additionally, he was able to meet with Dn. Peter Ilchuk, All-American Council Manager, and receive an status update on the All-American Council, scheduled for July 2021 in Baltimore, Maryland. His Beatitude also met with Archpriest Thomas Soroka, Program Manager for the Departments of the Orthodox Church in America, and discussed the work of the OCA Departments. In the evening, His Beatitude had dinner with Mother Christophora and the Sisterhood of the Monastery.
More Photos from the monastery can be found here.
click on photo to see album
The Feast of St. Herman brought several clergy from the OCA's Southwest Deanery of the Archdiocese of Western PA together to concelebrate the Divine Liturgy. Their Dean, Fr. Andrew P. Nelko (St. Nicholas Church, Weirton, WV), was joined by Fr. John Parker (St. Nicholas Church, Donora, PA), Fr. Stephan Gresh (Holy Resurrection Church, Belle Vernon, PA), Fr. John Kotalik (St. John the Baptist Church, Canonsburg, PA), and Dn. David Rostcheck (Nativity of the Virgin Mary Church, Monongahela, PA).  Fr. Andrew and the two Fr. Johns, are recent graduates of St. Tikhon's seminary. Mother Christophora asked each of them to share something about their parish and their journey to the priesthood at the end of the Liturgy. They joined in for a joyful singing of our St. Herman's hymn during the veneration of St. Herman's relic and icon.
Protodeacon Michael Sochka was ordained to the priesthood at the Orthodox Monastery of the Transfiguration, Elwood City, PA by His Eminence, Archbishop Melchisedek of Pittsburgh and the Archdiocese Western Pennsylvania on Saturday, August 17. Fr. Michael attended St. Vladimir's Seminary and served as a deacon for 22 years, most of those years at Holy Transfiguration Chapel at Princeton University, until he relocated to Pittsburgh. His wife, Matushka Leslie, also attended SVS. Father Michael is the son of the late Archpriest John Sochka and Matushka Marie, who was tonsured Nun Xenia at the Ellwood City monastery. Over 100 guests and numerous clergy were in attendance for the joyous and blessed event. Father Michael served his first Divine Liturgy at the monastery the following morning along with a 40-day memorial for Archimandrite Pitirim.
Father Pitirim (Peter) Stehnach, age 90, fell asleep in the Lord on the evening of July 10. Having served the Orthodox Church in America faithfully for over 50 years as a parish priest at St. Gregory, Wappingers Falls, NY; St. Andrew, Lyndora, PA; Holy Transfiguration, Steubenville, OH; Holy Resurrection, Forest Hills, PA; St. John the Baptist, Black Lick, PA, from where he retired on his 85th birthday. Father also served as a personal aide and driver for the late Archbishop Kyrill of Pittsburgh and Western Pennsylvania for over 20 years.

Born in Conemaugh, PA to the late Michael and Mary (Glova) Stehnach, Father was the sixth of nine children. He served seven years in the US Navy and Marines, after which he attended St. Vladimir's Orthodox Seminary in New York City. He was ordained to the priesthood in 1963 and later took monastic vows. He was raised to the rank of Archimandrite on his 25th anniversary of 
priesthood.

Father retired to Ellwood City, PA attending divine services at Transfiguration Monastery and St. Elias Parish as long as his health permitted. 
He is survived by brothers Paul and Steven Stehnach and several nieces and nephews, as well as numerous spiritual children. He was greatly appreciated for his practical and loving spiritual guidance.

The funeral for a monastic will be be conducted at Transfiguration Monastery Sunday evening, July 14, at 6:00 pm, preceded by viewing beginning at 4:00. Divine Liturgy and burial will be held at the monastery Monday, July 15, beginning at 10:00.